Most Dangerous Intersections In Canada
January 11 2013, Michael Small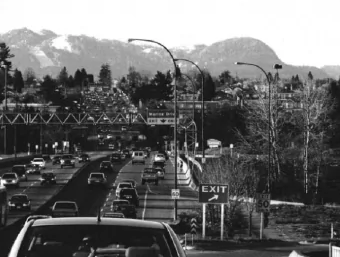 When it comes to accidents, intersections are like Michael Bay movies: they draw big crowds; they're filled with crashes, bangs, and booms; and nearly everyone leaves unhappy.

I examined a cross-section of national and provincial accident statistics from between 2002 and 2004, and it revealed that approximately 800 people were killed and 8,000 more injured each year at Canadian intersections. That accounts for 30 per cent of vehicle deaths and more than 40 per cent of serious vehicle injuries.
It's not hard to see why: opposing traffic converging at one point; distracting signs and blinking lights; abrupt stops and red light gambles; pedestrians crossing. Intersections may be Michael Bay movies; they're also potent cocktails potential vehicular calamity.

Put these factors into play in a highly-populated urban locale and you're just asking for an accident--more than one in five intersection deaths and serious injuries happen between the rush hours of 3 p.m. and 6 p.m.
Transportation officials are quick to point out that "worst intersection" lists should be taken with a grain of salt because they remove agency and responsibility from drivers. And while it's true that drivers are what kill and maim other drivers, the vehicles, conditions, and roadways also play a significant role. Some 40 per cent of drivers in serious or fatal intersection crashes were judged to have broken the rules of the road, whether by failing to signal or speeding.
Many of the following intersections--Canada's most dangerous--have found a home on annual collision lists. Take extra care when passing through.
Canada's most dangerous intersections
1) Vancouver: Knight St & Knight Street Bridge and SE Marine Dr & SE Marine Dr Offramp & SE Marine Dr Onramp
2) Calgary: Deerfoot and 16th Ave NE
3) Winnipeg: Kenaston Blvd and McGillivrary Blvd
4) Winnipeg: Leila Avenue and McPhillips Street
5) Calgary: Glenmore Trail and Deerfoot Interchange
6) Montreal: Highway 40 and Stinson
7) Winnipeg: Grant Avenue and Kenaston Blvd
8) Montreal: Dickson and Notre Dame
9) Montreal: Highway 15 and De Salaberry
10) Vancouver: Burrard Street & Burrard Street Bridge and and Pacific Street & Pacific Street Onramp and Offramp
11) Vancouver: East 1st Avenue & East 1st Avenue offramp & East 1st Avenue onramp and Rupert Street Offramp and TransCanada Highway
12) Toronto: Kennedy Road and Sheppard Avenue East
13) Toronto: Kennedy Road and Steeles Avenue East
14) Toronto: McCowan Road and Sheppard Avenue East
15) Edmonton: Yellowhead Trail and 127th Street
16) Edmonton: 107th Avenue and 142nd Street
17) Edmonton: 90th Ave NW and 85 Street NW
18) Ottawa: Hunt Club Road and Riverside Drive
19) Ottawa: Belfast Road and St. Laurent Boulevard
20) Ottawa: Baseline Road and Woodroffe Avenue
MORE RELATED TO THIS STORY
-Canada's most dangerous cities for cyclists
-Most dangerous music on Canadian roads? Rap, Reggae
-Canada's 5 longest commutes
-13 reasons your vanity plate got denied, goofball